okay as you have seen before I'm an alpha of few words! but I'll try to type this out for my awesome friends! note: this is not my real life just the life of alpha a. 
6:30 AM: okay so I woke up bight and early to get a start on my day. I took got Dorata to give my hair a fresh blowout while I was scrolling through the school and celeb gossip online. after that I put on my singnature makeup highlighting my best features and putiting A LOT of under eye concealer (shhhhhhh) because I'm a very hard working alpha and going to sleep before midnight is for losers. next I pick out an outfit for school trying to go by the school uniform guildlines as close as possible (or not)
7:15 AM: sooo next I eat a quick breakfast of yougut and fresh berries and freshly squeezed oj with a side of caviar 
7:30 I'm off to school in my limo with my amazing driver Issac! we pick up all of my close friends on the way! then we rate each others outfits and gossip a bit 
8:00 AM: arrive at school because the traffic is crazy 
8:15 AM: go to homeroom....and scope out the cute new guy and chat with penny :) 
8:30 AM: 1st-AP Pysh 
9:20 AM: 2nd- Daily Yoga and Pilates
10:05 Break- quick snack with the girls (starbucks?)
10:20: 3rd- AP Modern World History (nap?)
11:10- 4th- English 4- Write Your World (or...write this)
12:00- 5th- Fashion Design (two words- my mother!)
12:50: Lunch on the steps of the Met. catch up on the day with my friends 
1:40: 7th- AP Calc (nooooooo)
2:30: 8th- French, Latin, and Spanish Culture and Language: Section 3 
3:20 CHAPEL TRY NOT TO FALL ASLEEP TO THE VOICE OF THE MR. SMITH
4:00 field hockey practice 
7:00- home after a long ride and practice 
7:30-10:30: Homework (and eat some time in there)
10:30- 11:30- study and get ready for the next day 
11:30- watch the news and E! at the same time 
12:00 text/chat with friends and the cute new guy
1:00 try to sleep?
DO IT ALL AGAIN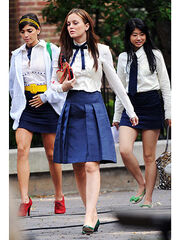 Ad blocker interference detected!
Wikia is a free-to-use site that makes money from advertising. We have a modified experience for viewers using ad blockers

Wikia is not accessible if you've made further modifications. Remove the custom ad blocker rule(s) and the page will load as expected.