The Clique Summer Collection is a sub-series within The Clique, by Lisi Harrison, about the summer between seventh and eighth grade for the Pretty Committee. It was released through the summer of 2008. There are five books in the mini-series; one book for each girl. The titles of the books are named after the girl that it is about. There is a gift box available that comes with each book, which includes: a box, a makeup bag, and 5 lip glosses- Massie's Mango Magawd (inspired by Glossip Girl), Dylan's Lo-Fat Fudge, Alicia's Coco-nawt, Kristen's Pretty Co-minty and Claire's Yummy Gummy. Here are the books as well as their release dates.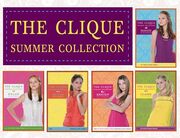 Ad blocker interference detected!
Wikia is a free-to-use site that makes money from advertising. We have a modified experience for viewers using ad blockers

Wikia is not accessible if you've made further modifications. Remove the custom ad blocker rule(s) and the page will load as expected.