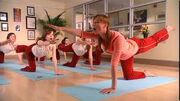 OCD is the all-girls private school that the Pretty Committee goes to. It stands for Octavian Country Day, but was temporarily renamed BOCD for Briarwood-Octavian Country Day when the boys came to OCD when their school got flooded by the wave pool. A few students started calling it BO (Body Odor) then as a joke. It's a private school, but it has no uniform because they believe in freedom and self-expression. However, after Massie Block and the rest of The Pretty Committee wear their inappropriate Dirty Devil costumes to school, a school uniform design contest is introduced. There is no uniform as a result, however, due to some meddling caused by William Block, encouraged by Massie. OCD costs $40,000 a year tuition. OCD is also short for Obsessive Compulsive Disorder, which may have something to do with the name, since most of the girls who go there are obsessed with looking perfect. At OCD, exellence isn't encouraged, it's expected. OCD is the home of 13 Fortune 500 CEOs, 7 gold-metal Olympians, 4 Puliter Prize winners, 3 Oscar winners, two senators, and one secretary of state.
It is known to have many extra rooms, such as dance studios, yoga rooms, a soccer field, a dark room for photography, and a bomb shelter. It even has a Starbucks kiosk, where the Pretty Committee pays visits to in between classes. One of OCD's best features is its ever changing cafeteria, or as the students and staff like to call it, The Café. 
Teachers and Staff
Edit
Only a few teachers make appearances in the books and movie. The principal is Principal Burns, the nurse is Nurse Adele, the geography teacher is Mr. Myner, the art teacher is Vincent (in the movie). In the books, Mrs. Nish is the art teacher. The Synchronized Swim teacher is Miss Kuznick. Joel Morris is the history teacher.
Ad blocker interference detected!
Wikia is a free-to-use site that makes money from advertising. We have a modified experience for viewers using ad blockers

Wikia is not accessible if you've made further modifications. Remove the custom ad blocker rule(s) and the page will load as expected.