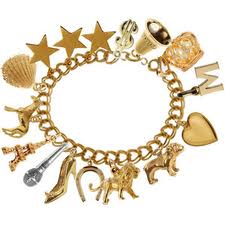 Massie's
charm bracelet is a gold charm bracelet that she's had since New Year's Eve in fourth grade. In
The Clique
,
Claire
gives Massie a silver microphone charm. In
A Tale of Two Pretties
, Massie gives
Alicia
the charm bracelet right before she leaves, signifying that Alicia is now the alpha.
All of the charms on Massie's charm bracelet are known to be gold except for the silver microphone which Claire gave her in the first book in the series.
Eiffel Tower
Shoe
Pig (unknown if still on)
Diamond-encrusted bell (for the diamonds)
Lion (from Claire)
Crown with tiny diamonds
Pug
M
3 Stars
Silver microphone (from Claire)
Heart
Horseshoe
Horse
Shell
Dollar sign
Ad blocker interference detected!
Wikia is a free-to-use site that makes money from advertising. We have a modified experience for viewers using ad blockers

Wikia is not accessible if you've made further modifications. Remove the custom ad blocker rule(s) and the page will load as expected.