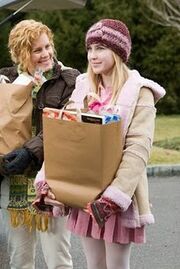 Judi Lyons is the mother of Claire Lyons and Todd Lyons in the Clique series.
She is portrayed by Elizabeth Keifer in the movie.
Personality
Edit
Judi is kind and sympathetic. She doesn't take fashion fashion as seriously as the other citizens of Westchester. In The Clique, Claire mentions that she likes watching The Daily Grind.
Appearance
Edit
In Orlando, Judi was considered attractive, but not so much in Westchester. Judi has blond hair and blue eyes, like her daughter. Compared to the Westchester mothers, Judi is overweight and out of shape. She frequently indulges in cake and ice cream, much unlike the other Westchester mothers.
Judi's daughter is Claire Lyons. Her husband is Jay Lyons and son is Todd Lyons.
Love Life
Edit
Judi is married to Jay Lyons.