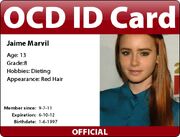 Jamie Marvil is one of Dylan Marvil's older sisters, along with Ryan Marvil. She tends to think that she is fat, much like her two sisters and mom. She has appeared in Charmed and Dangerous: The Rise of the Pretty Committee and A Tale of Two Pretties. Her name is also spelled like Jaime in a few books. She is also included in the Marvil's reality show.
Ad blocker interference detected!
Wikia is a free-to-use site that makes money from advertising. We have a modified experience for viewers using ad blockers

Wikia is not accessible if you've made further modifications. Remove the custom ad blocker rule(s) and the page will load as expected.