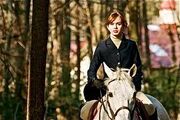 Brownie is Massie Block's horse that she recieved for her fifth birthday. In the book series Brownie is noted as a 'white stallion' with a 'thick black tongue' however in the movie the he is fleabitten grey. Massie is said to talk to Brownie and confide everything like she does to Bean and says that he is almost as good of a listener as Bean. Together, Massie and Brownie have won several ribbons. Brownie lived in the Block's horse barn until he moves to Galwaugh Farms, but Massie visits him often and they do a riding camp every summer. Later, Kendra renovates the horse barn into a workout room.
Ad blocker interference detected!
Wikia is a free-to-use site that makes money from advertising. We have a modified experience for viewers using ad blockers

Wikia is not accessible if you've made further modifications. Remove the custom ad blocker rule(s) and the page will load as expected.